We are so proud that our school is named Kyle R. Wilson Elementary. Kyle Wilson was a fallen firefighter of Prince William County who was courageous, kind and showed a great amount of strength. His bravery and courage will live through the students, staff, and community of Kyle R. Wilson Elementary.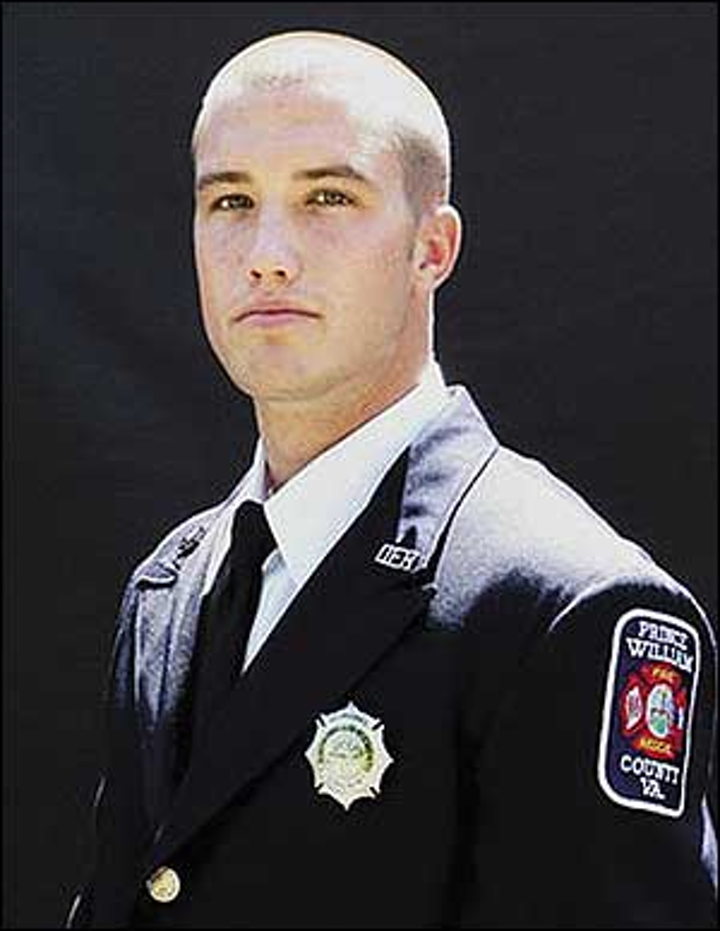 Kyle Wilson was born on May 25' 1982' in Olney' Maryland. He moved with his family to Prince William County at age one. He was a sweet' quiet child. He was observant and intelligent from early childhood. He attended school in Prince William County and graduated from Hylton High School in 2000. He received a degree in Athletic Training from George Mason University and had a passion for physical fitness and healthy living. Kyle participated in Dale City Little League for ten years and acquired the nicknames of 'Mookie' and 'Bucky.' It was not uncommon to hear the team cheer for 'Kyle Mookie Bucky Wilson!'
Kyle put his talents of observation' intelligence' and physical fitness into becoming a Prince William County firefighter. He loved his job' and it showed in everything he did. On Monday morning' April 16' 2007' Kyle did not hesitate to follow the truck officer into the house to help the occupants flee the fire. When the situation got out of hand' he fell back on his training and fought to the end. It is a tribute to Kyle's spirit and dedication that he was able to do the right thing in the most difficult situation.
Kyle was a true friend to those who knew him. He had a deep devotion toward those he loved' and there was nothing he wouldn't do for a friend. He especially loved his brother' Chris; his sister' Kelli; and his Mom and Dad.
Kyle's natural curiosity led him to explore different subjects of study' discuss politics and logic and challenge his mind. He was also a fan of the Discovery Channel. He had a great sense of humor and loved to go dancing. The 'moon walk' was a favorite of his. He sang karaoke with his girlfriend and felt he had the better voice when' in reality' hers was the better of the two.
Kyle's sacrifice on that April morning will never be forgotten. His selflessness and caring in a desperate situation is a testament to his true nature. His beautiful smile' fun-loving ways and quiet sensitivity will be dearly missed. Kyle' you leave behind a legacy of love and laughter that will be hard to match. So' from your brother' Chris; your sister' Kelli; your Mom and Dad; and all of your numerous friends and firefighter brothers' you will never leave our hearts. We wish you peace.
-Submitted by his family